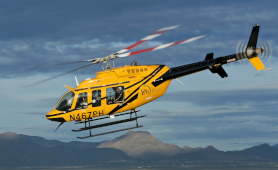 CAREER OPPORTUNITIES
Do you have a passion for serving others? PHI Air Medical employs the most talented, experienced and dedicated workforce in the air medical industry. With a culture driven by our mission, vision and values, everyone plays a vital role in delivering world-class care while maintaining the highest level of safety. We offer a competitive salary plus a variety of competitive benefits. 
Who We're Looking For
We are intentional about our organizational culture, how we interact with one another and how we keep evolving as we move communities to health. Our people are the backbone of how we do what we do every day for our customers, air ambulance providers and communities. We are always looking for forward-thinking, adaptable, dependable and safety-focused professionals who will do the right thing – always.  
Learn more about these career paths at PHI Air Medical: 
Compensation & Benefits
We know our valued employees are our greatest asset, which is why PHI offers one of the most competitive and comprehensive benefits programs in the industry. Compensation is competitive and in line with experience and industry standards. 
Eligible employee benefits include:
Medical, Dental and Vision plans

 

Life/AD&D Insurance Plans

 

Disability Plans

 

Flexible Spending Accounts

 

Employee Assistance Programs

Critical Illness

 

Accident

 

Legal Services

 

Pet Insurance

 

Home and Auto
Our Values
Our values are at the core of our operations each and every day. When you work for PHI, you are integral to how these values set us apart from others in the industry and to the overall health of our organization and our communities.
Well-Being of People

– The safety, health and wellness of our employees, patients and communities is at the heart of what we do.

 

Duty of Service –

It is both an honor and a privilege to be called upon to serve our patients, customers, communities and each other.

 

Do the Right Thing –

We believe our people should always professionally compassionately exercise the highest ethical, legal and operational judgement.

 

Earn and Give Trust –

We are the people and the organization that are truthful, dependable, sincere and open. When there is a question, we give the benefit of the doubt.

 

Care for the Environment –

We do our part to leave the world better than how we found it by promoting a culture that values sustainability and strives for regeneration.

 

Profitable Stewardship of the Business –

A well-run, profitable company is an unstoppable force in moving communities to health. We strategically manage and deploy the resources entrusted to us, ensuring a responsible return to our investors.

 
About PHI Air Medical
PHI Air Medical is the leading air ambulance provider in the United States. We transport more than 30,000 patients each year from more than 80 bases across the country, including in Arizona, California, Texas and Florida. With an unmatched safety record and the best aviation, medical and communication specialists in the field, we set the standard in the air medical industry. 
When you join the PHI Health team, you are joining a family. One that is focused on the health and safety of everyone and everything it touches, and one that is forward-thinking and evolving with our ever-changing world. If you have a true passion for being a part of change, growth and service to your community then we want you. 
Think you have what it takes? What are you waiting for – join us! 
PHI Health, LLC is a DoD SkillBridge Partner
PHI Health LLC. is proud to be a DoD SkillBridge partner. Being a DoD SkillBridge partner allows us to collaborate with the Department of Defense (DoD) to provide valuable training and work opportunities for transitioning service members. As a partner, we offer structured programs that allow service members to gain industry-specific skills and experience during their final six (6) months of military service. These programs are designed to enhance their employability and facilitate a successful transition into civilian careers. By participating in the DoD SkillBridge with PHI Health, LLC., you receive the opportunity for professional development and successful transition of military personnel into the civilian workforce.
To learn more, please reach out to careers@phiairmedical.com