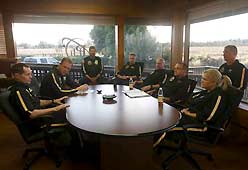 LEADERSHIP
PHI Air Medical is proud of the dedication, integrity and work ethic of our leadership team.
David Motzkin, President, PHI Health, LLC
Paul Julander, Chief Operating Officer
Maria Costella, Chief Human Resources Officer and Chief Foundation Officer
Jaime Phillips, Chief Financial Officer
Jordan Lewis, Vice President, Supply Chain
Sean O'Neal, Director, Air Medical Operations
Kurt Baden, Director, Aviation Operations
Paul Perakes, Director, Maintenance Operations
Bob Mayberry, Director, National Clinical Standards
Joe Gallagher, Director, HSEQ
Jarel Morrow, Director, IT & Cyber Security Officer
Chris Hall, Director, Government Affairs & Industry Relations
© Copyright PHI Air Medical. All Rights Reserved.