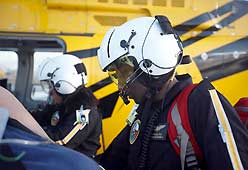 Our Air Medical Training Standards
Training – of pilots, mechanics and medical personnel – is priority at PHI Air Medical, as indicated by extensive educational and training requirements and opportunities. Our state-of-the-art curriculum covers mechanical emergencies, human error and communications. All of our medical personnel undergo comprehensive Air Medical Resource Management training that includes situational awareness, decision-making and team building. PHI Air Medical's exhaustive training programs meet or exceed all regulatory requirements, and in many cases set the industry standard.
© Copyright PHI Air Medical. All Rights Reserved.